PROBLEM 
Budgeting is a labor-intensive, error-prone process that is difficult to coordinate across departments. 
Budgeting is a mission-critical process at the center of nearly governments do. Unfortunately, many organizations struggle with their process and dread budget season. Their existing ERPs and finance tools do a poor job of helping them see and collaborate on the budget. So most organization end up emailing around hundreds of disconnected spreadsheets. Key decisions are lost in Excel or a literal paper trail.
"Our existing process was a nightmare." 
I lead the design effort to create a solution that gives budget administrators and departments a single place on the web to manage their budget. The concept was a simple but flexible tool for seeing the budget in new ways on top of an existing process. The product makes working on the budget easier and more efficient. This governments more time to focus on effective decisions and community outcomes.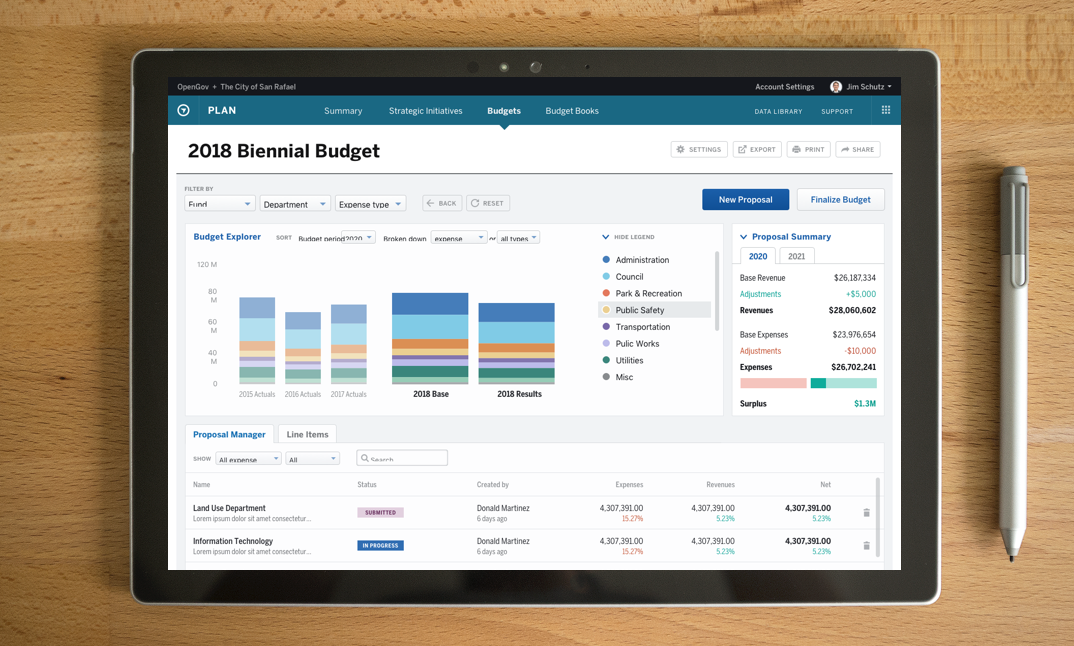 Goals
Budget was a major initiative at OpenGov, a venture to help governments with their mission-critical process. Here were product and design goals:

•  Make it easy for staff to understand the budget process and contribute.
•  Show how budget numbers match with community priorities and needs.
•  Empower budget analysts to spend more time on strategy and services.
•  Reduce admin manual work and time fighting with systems and herding cats.

My Role in the Mission
I lead design on this "moonshot" effort for OpenGov. I oversaw design for research, vision, strategy, UX, and UI delivery. I worked along-side a product manager and an interaction designer. We also reviewed and iterated on designs with a part-time visual designer. I prototyped app concepts and worked closely with 2 front-end engineers on app styles. 

The product was a big bet for the company and our customers. We rallied as a truly cross-functional team: from the executive team, marketing, former government experts, and our outstanding customer success team.

Timeline and Constraints:
 •  3-month research and development, concepts, and prototyping for Early-Access program 

 •  3-month product Beta with customer interviews and usability testing

 •  Designed for primary persona of expert, admin users
 •  Designed with existing UI components and limited visual design. See Capital OpenGov's Design System. 
Discovery and "Day in the Life"
We did in-depth research with customers and immersive research into how governments budget. We interviewed finance experts and tested concepts in user studies with 12 governments. 

It was great fun to introduce the a user-centered design process to people in government. It was new and refreshing to them because too many governments are stuck with technology vendors who don't listen to them. We learned what users wanted to achieve and observed their motivations and problems. Then, in true participation, we designed a solution.  


Reading & Learning
Synthesizing a bunch of information is a skill I learned early in my career as a technical writer. In addition to primary research with customers, I learned by reading a budgets from cities around the country. These budget books themselves are often hundreds of pages filled with numbers. 
We also did competitive analysis of different enterprise and consumer budgeting tools. 
This research gave us a better picture of the tools governments use today. Then we modeled a unified process that would work for the the majority of governments. ​​​​​​​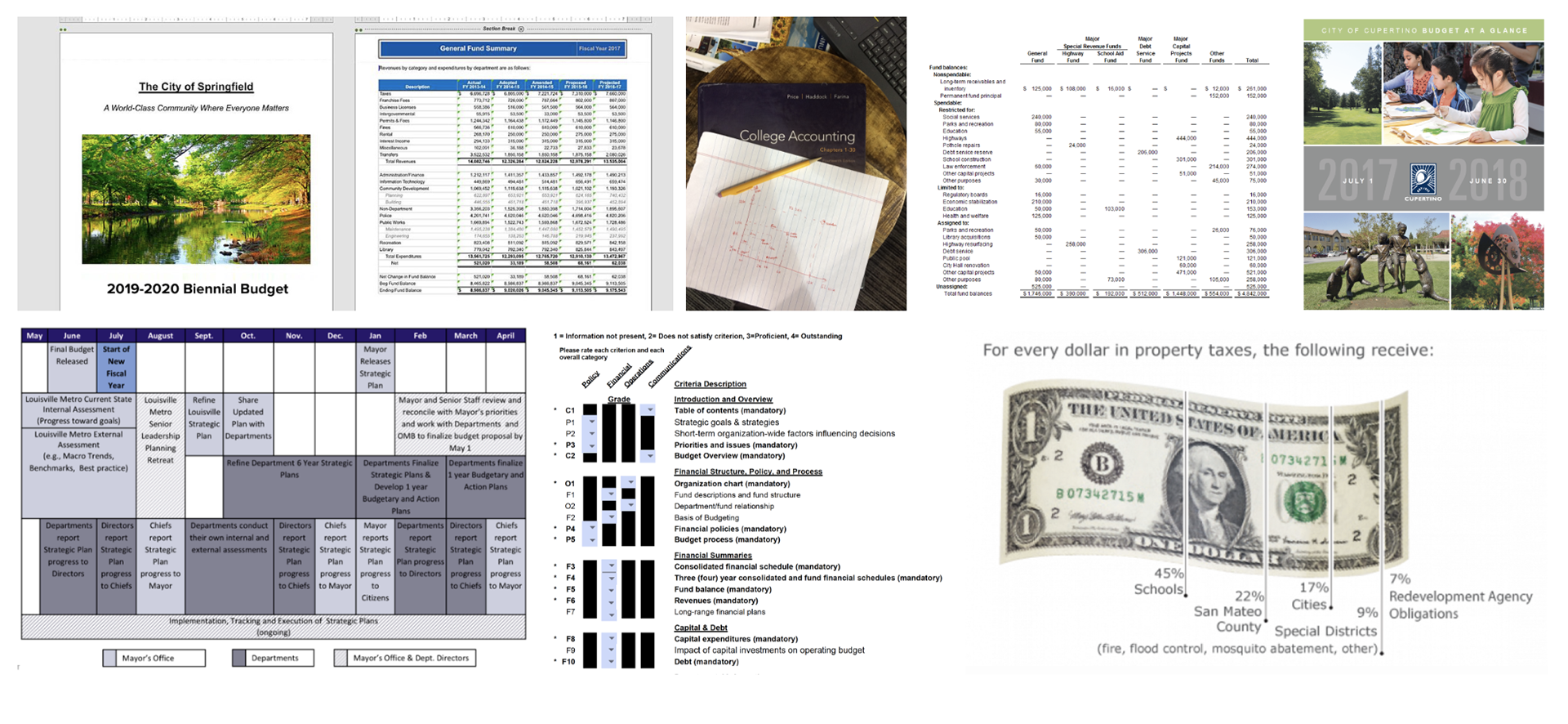 Vision & Concepts
Primary and secondary research helped us understand the customers' process and workflow. It was important to understand how people budget today, and then present them with a model that was both familiar but also fresh and powerful. For example, one new idea in our vision was a little bit like Github for code versioning and contribution, but in the language of local government. 
We looked at the big picture of all activities that governments go through during the budget process. I facilitated sessions with potential customer to understand their top needs to shape our product roadmap. For example, we created a game where we gave customers an imaginary budget of $100 dollars to spend on improvements to their process. We gave them a menu of features and improvements and they could invest the money how they wanted.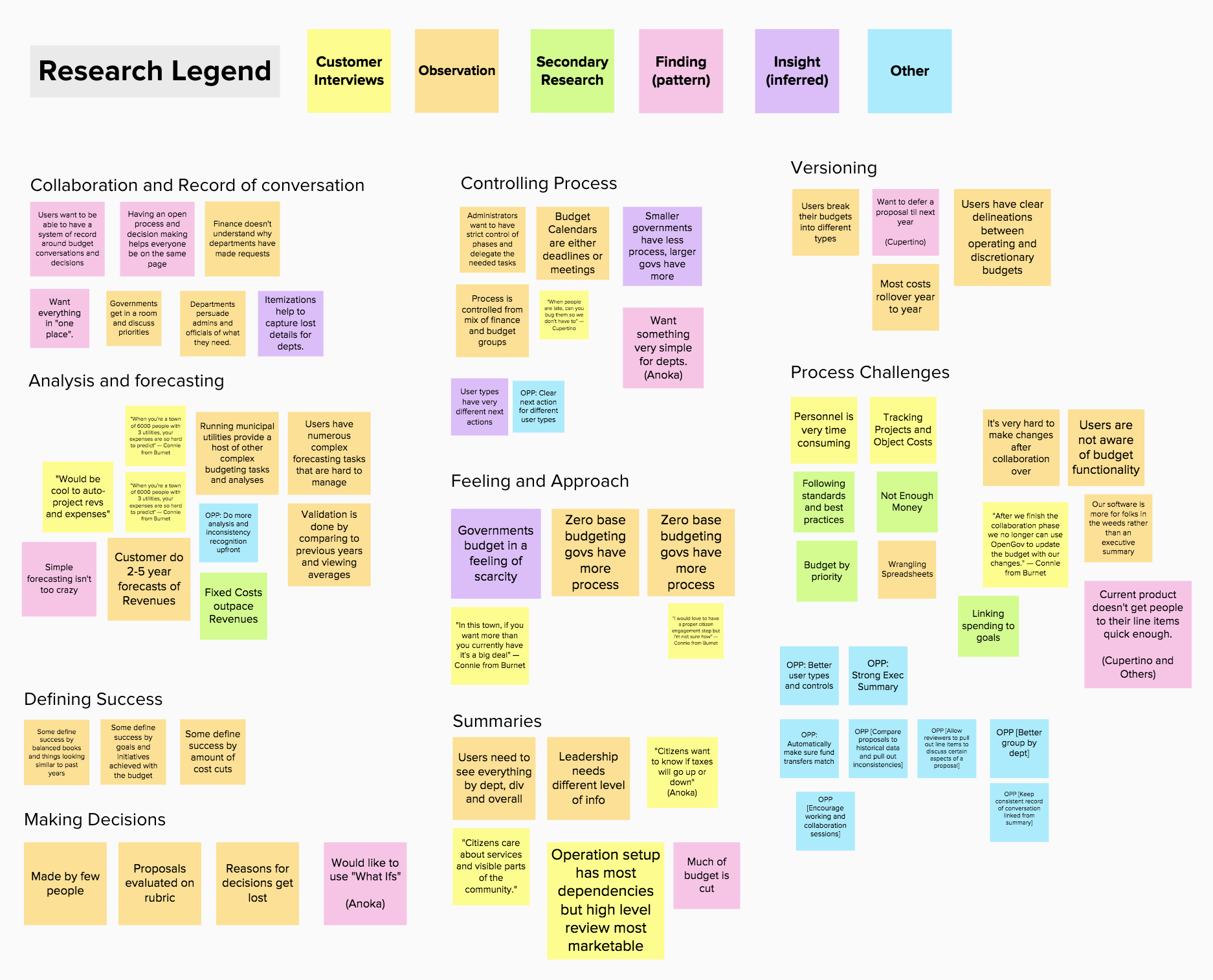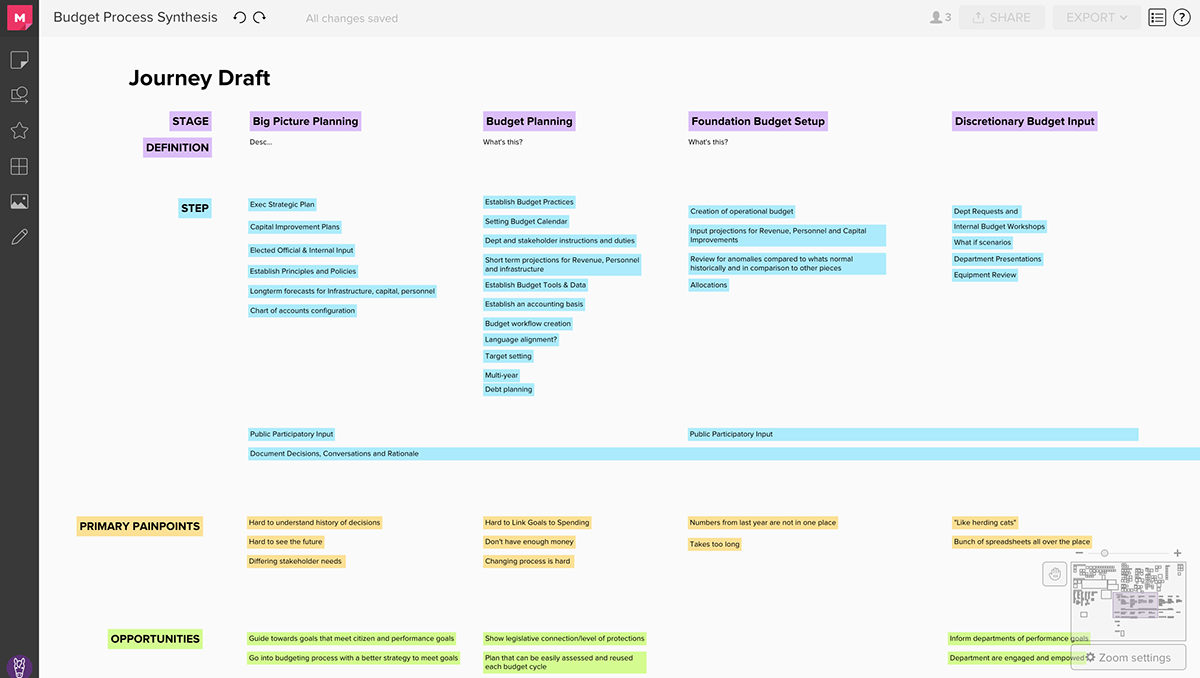 Here's one of the ways we modeled the budget process across different local governments: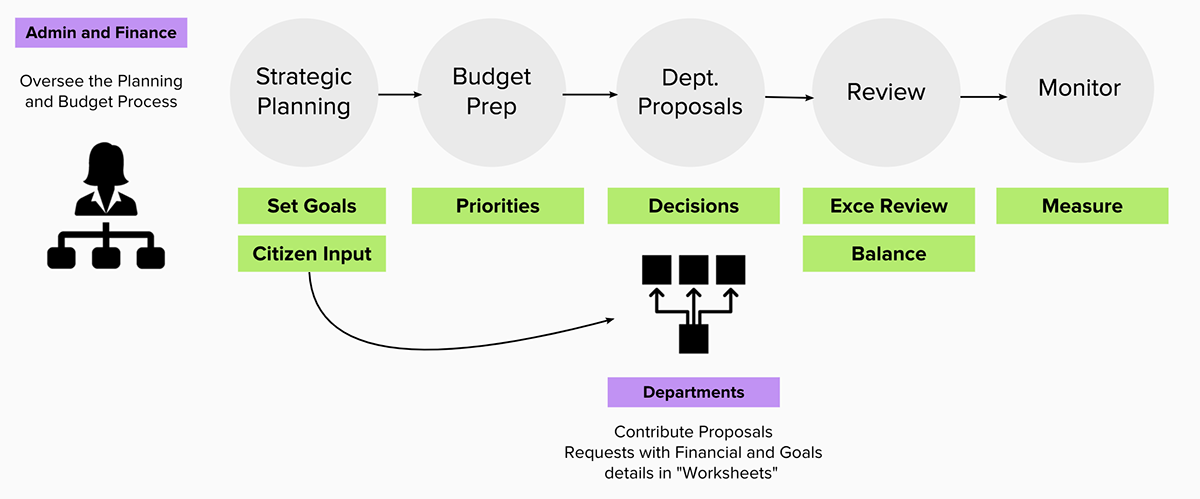 Design Goals
After doing early research and planning the project, a few design goals and principles emerged: 
•  Put everything in one place and allow users to find the numbers relevant to them
•  Make it easy to work with existing process but encourage fresh thinking 
•  Take of the best of Excel, while making the experience simple
 •  Encourage contribution, storytelling, and relevant details
1. Everything in One Place
Proposals take a base budget as a starting place and allow administrators to match financial accounts to departments and programs in order to prioritize requests do what-if analysis of different proposals.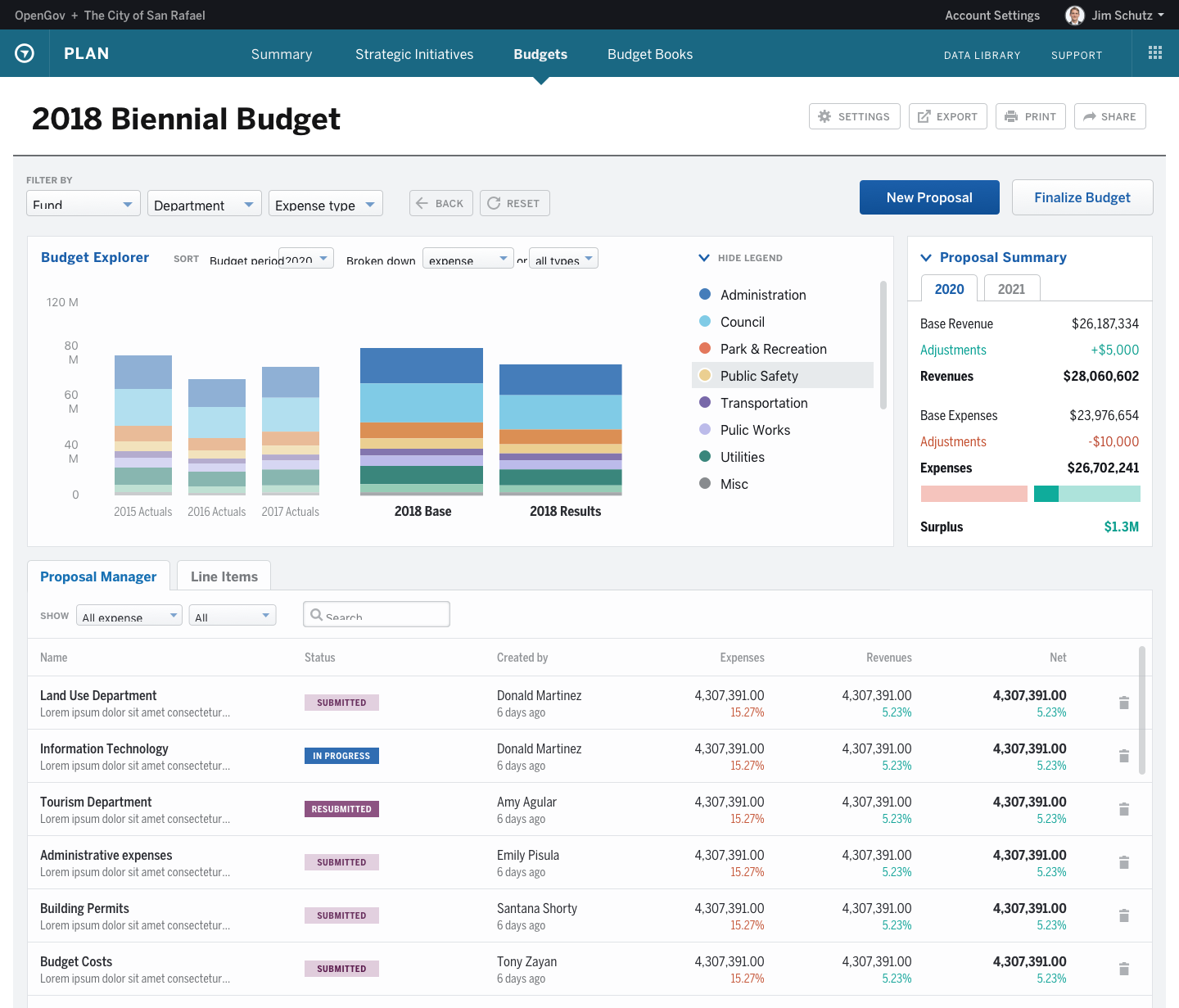 2. Fresh Thinking with Proposals
Budget proposals create a story that packages department request into a structure that matches the organization's strategic plan. It also allow decision makers to explore new ideas instead of doing what they've always done. For example, If they're caught in a vicious cycle of only repairing potholes, departments can create a proposal to fix the root cause of deteriorating roads. 
This was well–received by customers and we worked with them to encourage the detailed planning that would save them time later. We created an interface that makes it easy to tell a story while specifying details down to the dollar.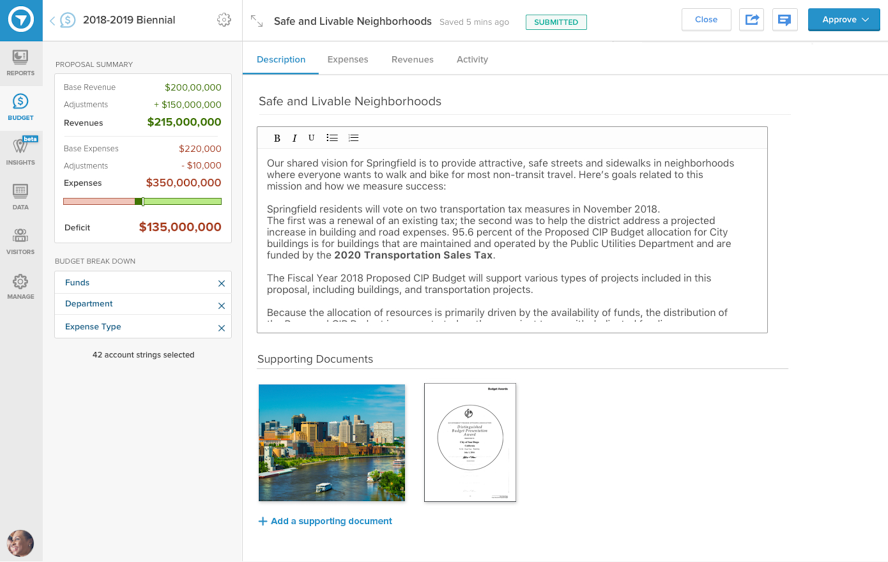 3.
Simplified Spreadsheets 
One of the more interesting challenges on the project was how to allow for a number of ways for use to perform mathematical operations in an Excel-like way while keeping the items simple for both finance experts and end users.
Here's some of the sketches and prototypes I produced to test these ideas. In addition to design tool, I used a number of data wrangling, spreadsheet, and prototyping tools work with real budget data.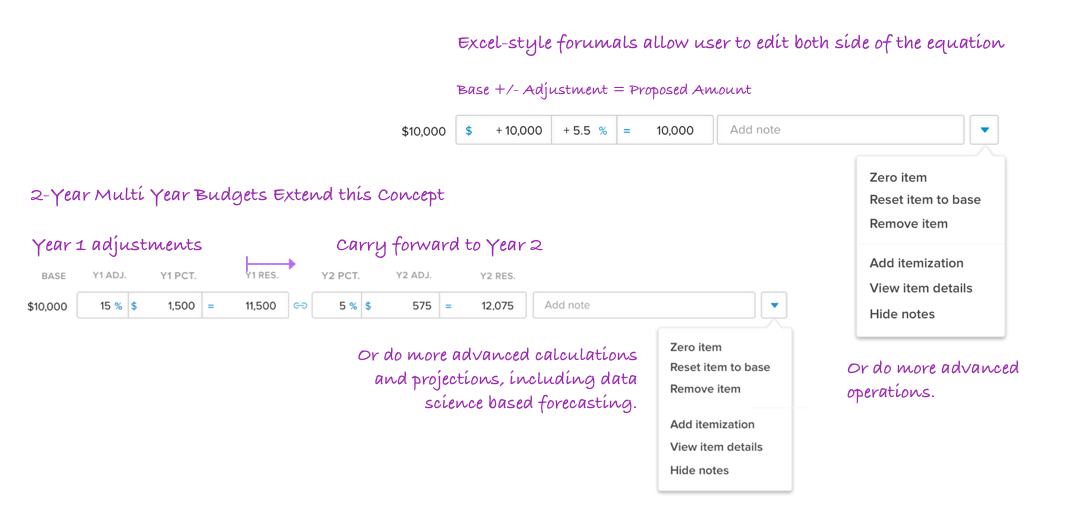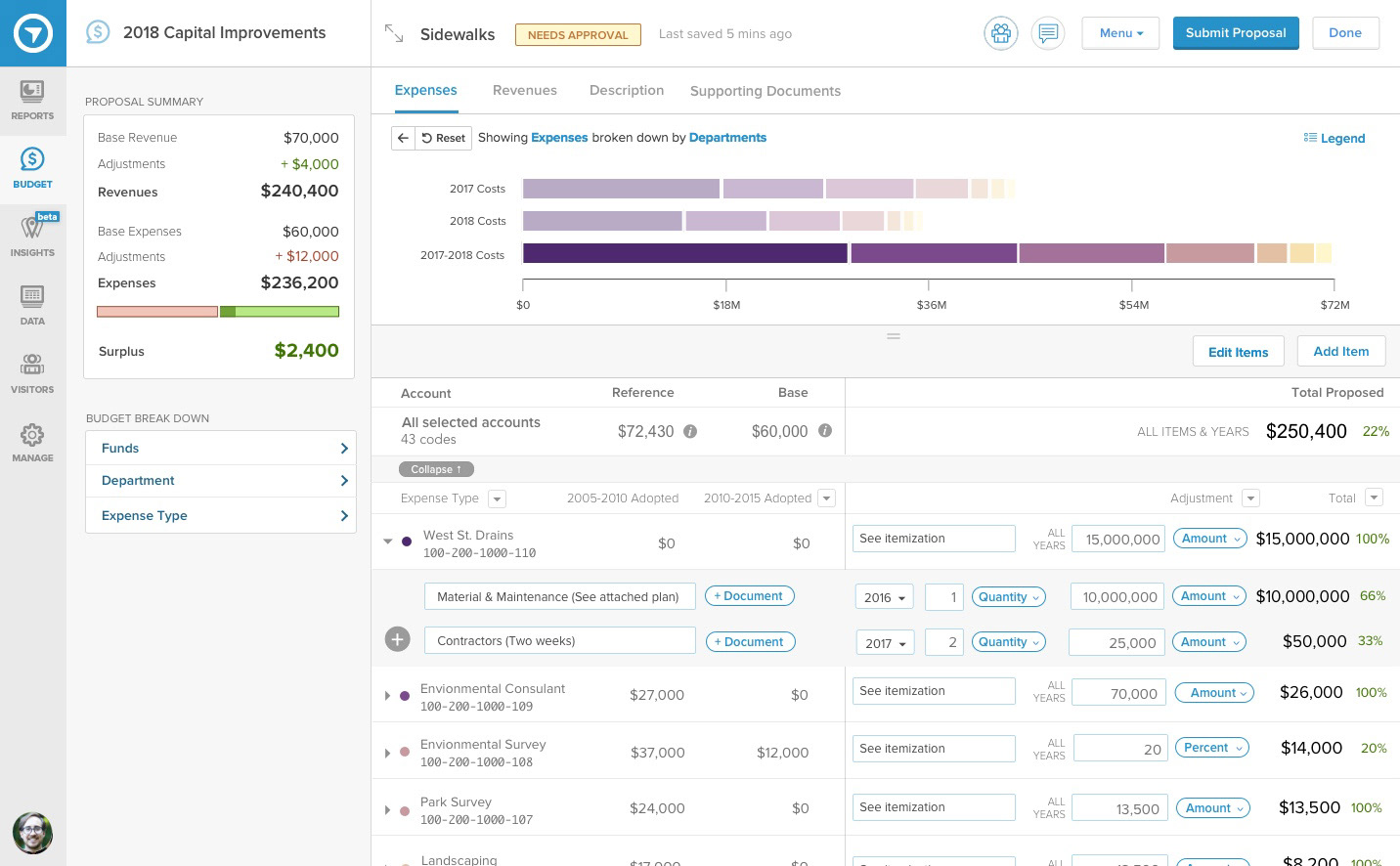 We designed a flexible and simple way to invite people into the budget, by their relationship to the organization strategic plan, programs, or departments. Or users could simply share and comment via email. 
​​​​​​​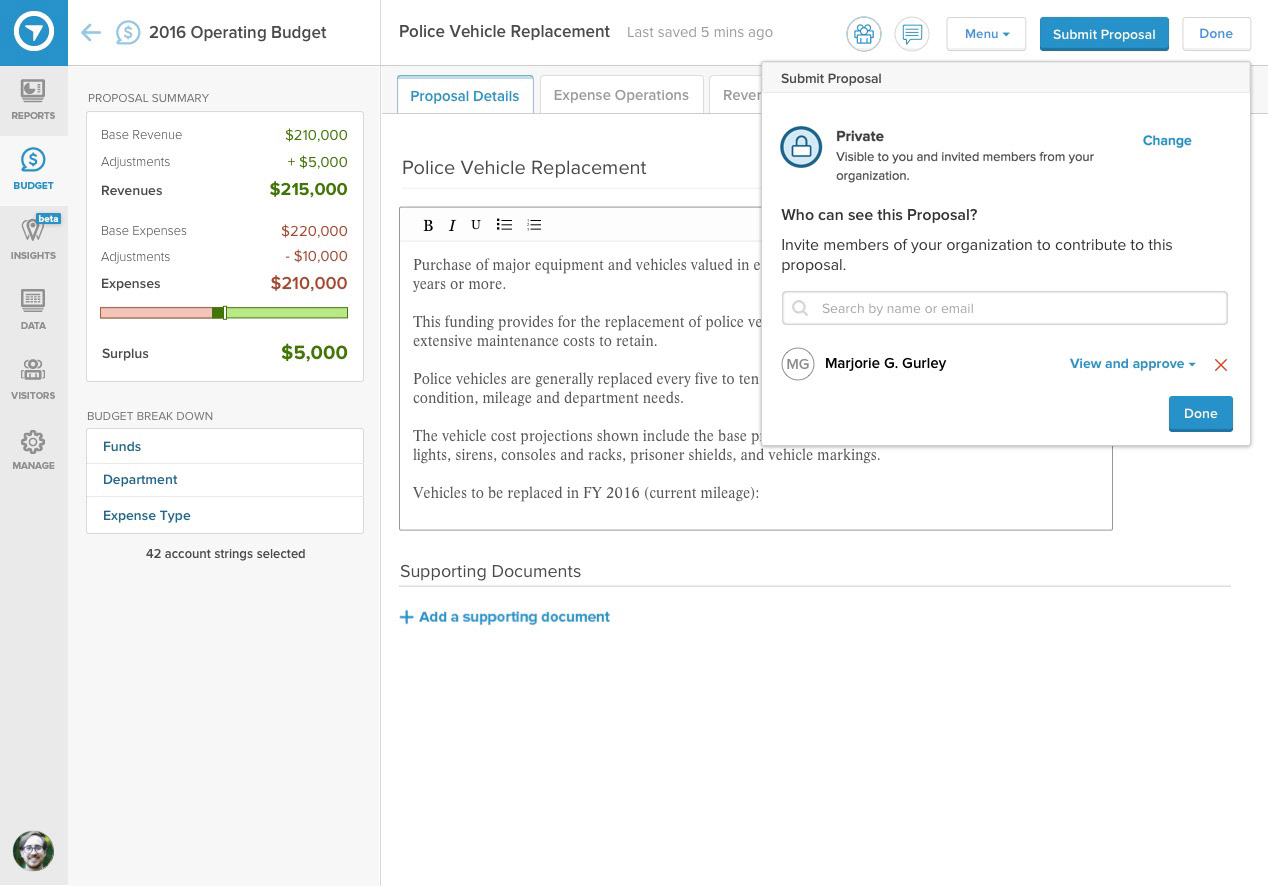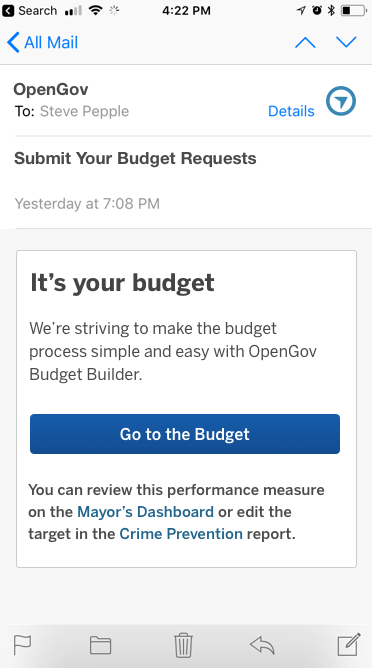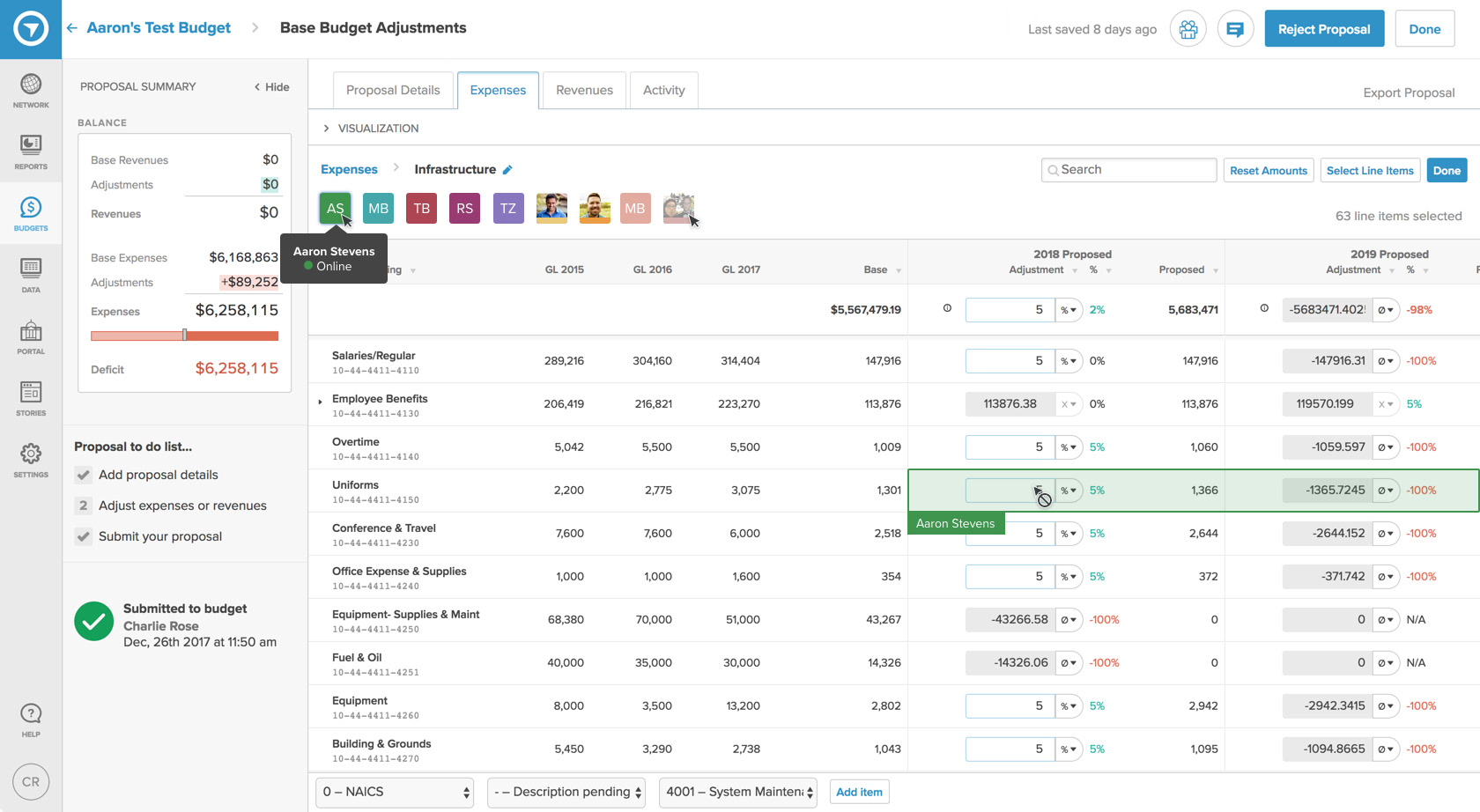 ​​​​​​​
Outcomes & What's Next
Despite challenges and bumps along the way, the product launch and adoption was a major success:
 •  Delivered mission-critical solution for governments: They have to finish the Budget on time. 
 •  Drastically increased sales— $1M in ARR within the first of Beta; Now, leading revenue product for the company
 •  There were lines of people at government conference to see the software.
 •  Supports in "in the moment" decision making. 

Beyond the initial success, the product continues to been stretched and grow based on customer feedback and needs. We're working with customers who have challenge processes and also need help with other parts of their budget process. 
A key lesson is that you have to put a product into the world with real people and data to know what will work. We've folded many of the things we learned as a design team into our work on the
Capital Design System
.