Bay Area Rapid Transit (BART) Metro Redesign 
If you've ever purchased a BART ticket or added money to your Clipper Card at kiosks in San Francisco or Oakland, you are well aware that the metro kiosk are far from intuitive. I've watched many people struggle to understand the fare system and how to buy a ticket. They often ask, "What the hell is a clipper e-purse upgrade?" Even for experienced users, the process can be slow and confusing. 
As part of a in-depth Cooper design training in goal-directed interaction design, I worked on a design exercise for rail commuters in the Bay Area, including ethnographic research, user personas, conceptual design, and interaction design. Based on user observations and interviews I designed several scenarios and use cases for the system.
A notable constraint in the design exercise was that the team could not modify how the transit and fare service worked. Only minor enhancements could be made to the printed materials and digital user interface. No hardware changes were considered.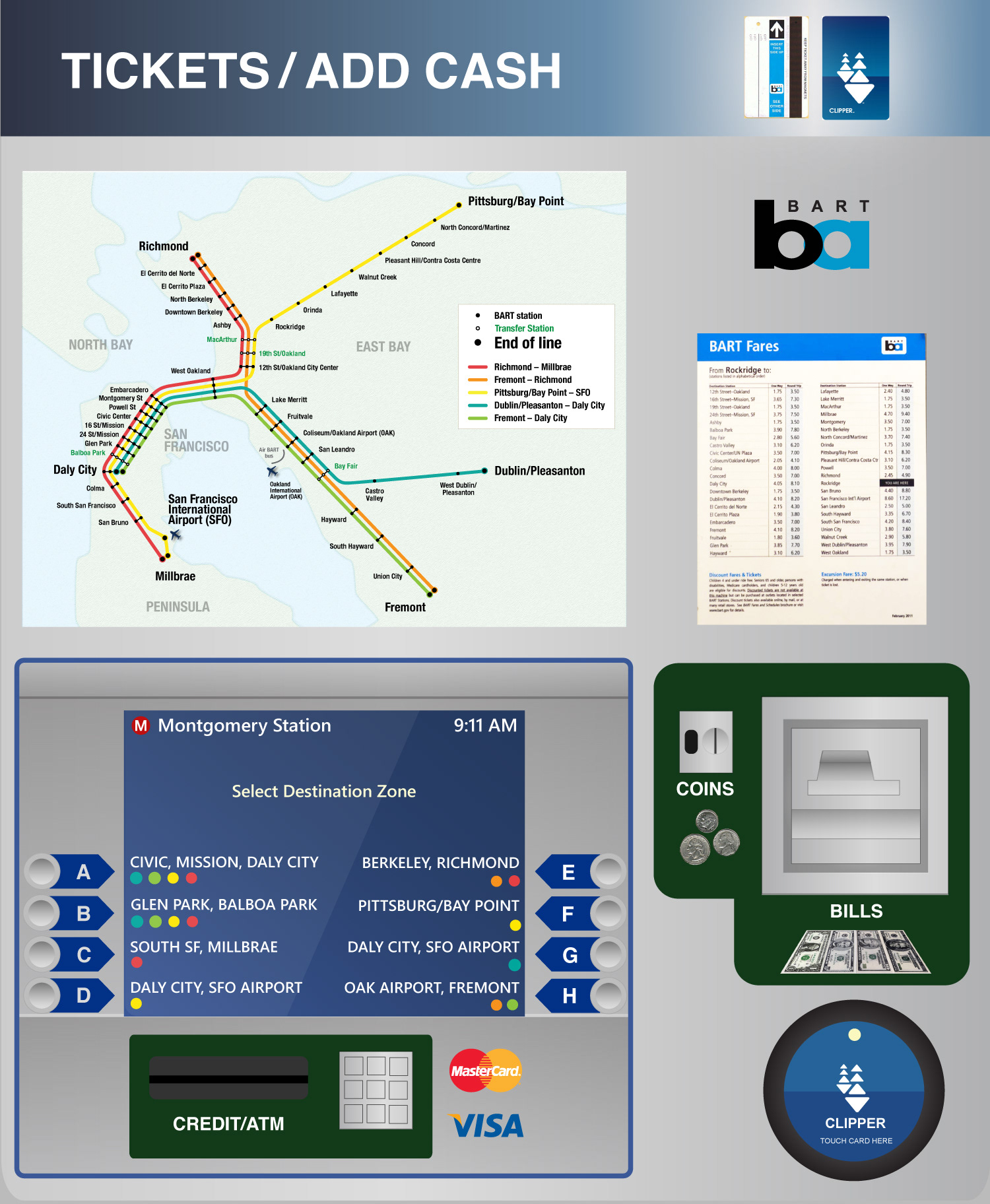 I worked on a design team with three people. We developed two, simple primary personas: a frequent user of the system, who likely knows their destination and fare. This user also desires perform
regular
task quickly, such as adding value to their transportation card. The second persona is users that are not familiar with the transit system and may need assistance with where they need  to go and how. For instance, the user needs to go to San Francisco International airport, but they need help finding the right train and fare. 
At a service level, we designed a system that shows the most frequent destinations on the first screen. The idea is that the kiosks at each station in the city should be localized to the station and keep a list of the most frequent destinations. For example,  the "quick trips" at Montgomery Station downtown will be different from those at SFO International Airport.
1. Each station is location-aware, and presents the most frequent destinations based upon the location.
2. Show a clear geographical map, which also maps to the abstract system map.
3. For other destinations the mapping between the system map, the kiosk interface, and the kiosk buttons should be simple and direct.
4. Other common destinations, e.g. Oakland City Center, are easily found and booked.
5. Payment process is simplified. (In the existing system user must know the exact fare and manually enter it.)
6. User is given clear instruction on how to get on the train and when to exit the system.